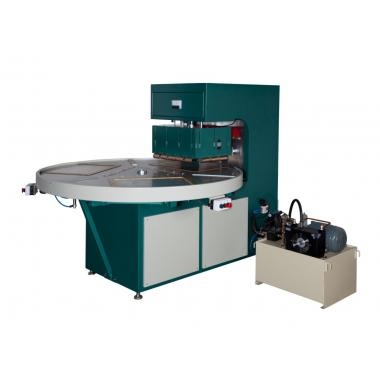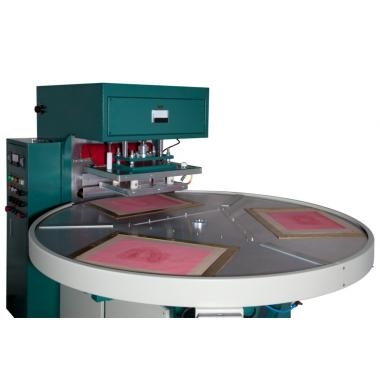 DT-C/R3
High-frequency automatic transmission materials Plastic Welding Machines
ACCURATELY LOCATION
This machine is qualified to locate with high precision push plate location system(ELECTRICALLY GRADUATED DISC). And the sγstem make contraposition of large area process. By using the machine, it increases times of produce benefit and the finished product rate reach 100%. "

"JAMMING PREVENTION DEVICE: Equipped with frequency stabilizer and high frequency magnetic leakage suppressor. This device prevents leakage of elect-romagnetic radiation to avoid
jamming other electrical instruments such as televisions and radios, etc. "

One operator can control one or machine. The operator with simple training make high difficulty and high quality parts proscess.

Computer programm inside , it works accurately and stably after simply setting.

The safe, high speed and stable three-position rotating plate structure and accurate timing electronic system may largely accelerate the processing.
Specifications
Chinese products
高周波圓盤塑膠熔接機-轉盤/3站/氣壓/油壓式
English Product
High Frequency Welding Plastic Machine-Automatic 3 stations rotory plate embossing machine
Model
DT-12000C/R3
DT-15000C/R3
DT-25000C/R3
H.F.out-put Powwe kw
12KW
15KW
25KW
Oscillation Frequency
27.12MHZ
Power Supply
AC 220/380/415/440V 3p
Input Power
24KVA
28KVA
38KVA
Oscillation Tube
3130
ITL/5-1/8T85
8T25
Rotation mode
Rotation mode: motor / high precision indexing plate
Operation type
Pneumatic OR Hydraulic pressure
Maximum pressure(kgs)
Pneumatic 600kgs/Hydraulic 1500kgs
Pneumatic 800kgs/Hydraulic 2000kgs
Pneumatic 1200kgs/Hydraulic 3000kgs
Up electrodes(mm)
500*350
800*600
1000*800
Lower electrodes size(mm)
650*500
950*750
1150*950
Max gap of electrodes(mm)
150
Activities of the distance(mm)
100
high sensitive spark-suppressor device
high sensitive spark-suppressor device
Net Weight(kgs)(kgs)
1100
1450/500
1500/500
Gross Weight(kgs(kgs)
1300
1650/600
1700/600
Packing measurement(mm)
4000*3500*1900
1350*2200*2100/ 1900*2700*1300
Applicable material
Applicable material:PVC, or contain ingredients PVC30%, PU, TPU, EVA, TPE, PE, PET-A of PET-G.PLA.New research and development of environmentally friendly materials.Soft and hard rubber, animal leather or cloth, can be processed.
Applicable product / range
Applicable product / range:The large upper, exquisite trademark, gloves, basketball, football, urine bag, drip bags, cushions, ice pillow, mattress, cushion, foot pad ... can be processed.
For the company, the pursuit of excellence and customer satisfaction is our business goal of 30 years and will never change. We sincerely look forward to your criticism and advice, which will enable us to make progress to provide you with better. Service.
CONTACT DINGTAY