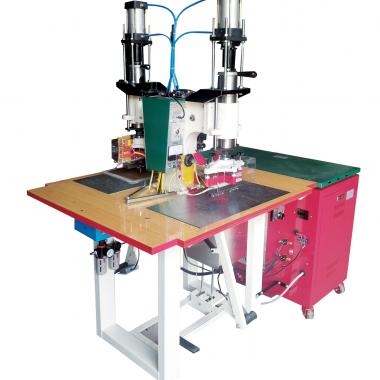 DT-TRS
High Frequency Plastic Welding Machine(Double-head high power standard series pedal/Pneumatic)
DT---DINGTAY Brand name
4000---high frequency out W
TR---Fixed pressure / adjustable stroke
S--- high sensitive spark-suppressor device
Specifications
English Product
High Frequency Plastic Welding Machine
(Double-head high power standard series pedal/Pneumatic)
Model
DT-4000TRS
DT-5000TRS
DT-8000TRS
DT-10000TRS
H.F.out-put Power kw
4KW
5KW
8KW
10KW
Oscillation Frequency
40.68MHZ
27.12MHZ
Power Supply
AC 220/380/415/440V 3p/1p
AC 220/380/415/440V 3p
Input Power
7KVA
9KVA
14KVA
18KVA
Oscillation Tube
3062
7T85
7T69
3069
Rectifier
Silicon Rectifier
Operation type
Pedal/Pneumatic
Maximum pressure(kgs)
400
500
600
Up electrodes(mm)
200*70
200*70 / 320*70
320*70
Lower electrodes size(mm)
700*350
700*350/800*400
800*400
Max gap of electrodes(mm)
170
Activities of the distance(mm)
60
high sensitive spark-suppressor device.
high sensitive spark-suppressor device
Net Weight(kgs)
370
390
430
450
Gross Weight(kgs)
520
550
580
600
Packing measurement(mm)
1880*1150*2110
Applicable material
PVC, or contain ingredients PVC30%, PU, TPU, EVA, TPE, PE, PET-A of PET-G.PLA.New research and development of environmentally friendly materials.Soft and hard rubber, animal leather or cloth, can be processed
Applicable product / range
Footwear, uppers, trademark, raincoats, canvas, handbags, cushions, tools, bags, photo albums, medical drip bags, urine bags, stationery, certificates jacket, medical beds, air bed .... can be processed.
For the company, the pursuit of excellence and customer satisfaction is our business goal of 30 years and will never change. We sincerely look forward to your criticism and advice, which will enable us to make progress to provide you with better. Service.
CONTACT DINGTAY