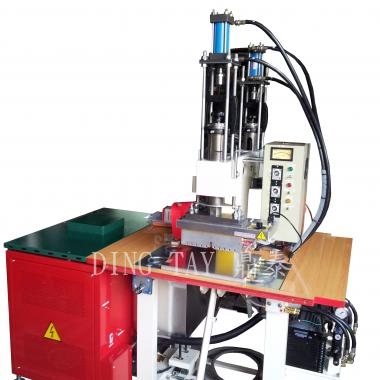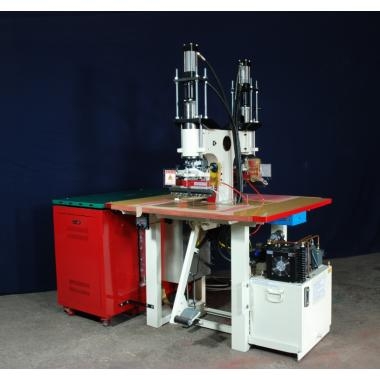 DT-TRW
High frequency plastic welding machine
DT---DINGTAY Brand name
6500---high frequency out W
TR---Fixed pressure / adjustable stroke
W---Hydraulic pressure
When spark occurs the high sensitiveness spark protect electric system cuts high frequency power immediately to protect mould and material.
ADJUSTMENT FOR THE DISTANCE ON THE MACHINE HEAD: Adjust the distance on the machine head if practical as the mould's size and height are different. , Adjust the weld depth.Save working load while processing accuracy can reach up to 98%. Control of welding depth
HIGH POWER WELDER: Using a special designed mechanism, the maximum pressure of foot pedal can reach up to 2000KGS so as to meet most operating conditions. The high quality components make these machines work very smoothly and precisely.
Specifications
Model
DT-6500TRW
DT-8500TRW
DT-10000TRW
DT-12000TRW
H.F.out-put Power
6.5KW
8.5KW
10KW
12KW
Oscillation Frequency
27.12MHZ
Power Supply
3Ø AC 220/380/415/440V 50/60HZ
Input Power
11KVA
14KVA
18KVA
22KVA
Oscillation Tube
JAPAN TOSHIBA
JAPAN TOSHIBA
JAPAN TOSHIBA
JAPAN TOSHIBA
Rectifier
Silicom
Max Pressure (kgs)
400~2000
400~1500
400~1500
400~1800
Mechanism
Unity mechanism type (Strengthen the mechanical tructure)
Operatio type
Oil pressure/ Foot pedel
Control apparatus
high frequency welding timer
Electric heater
Constant temperature type electric heater
Arc suppressor
highly sensitive sparklet oreventor
Arc suppressor tube
USA 5557
Lower electrodes
350x700
350x700
350x700 / 400x800
350x700 / 400x800
Motor horsepower
2HP
Press Stroke (mm)
50
機械淨重(Approx) (kgs)
720
730
750
780
機械毛重(Approx) (kgs)
820
830
850
880
機械包裝 LxWxH(mm)
2050x1250x1880
2050x1250x1880
2050x1250x1880
2100x1250x1880
For the company, the pursuit of excellence and customer satisfaction is our business goal of 30 years and will never change. We sincerely look forward to your criticism and advice, which will enable us to make progress to provide you with better. Service.
CONTACT DINGTAY